Xbox
The scariest thing about Sons of the Forest… is a finger
Sons of the Forest is not for the faint of heart. There are corpses, cannibals, a breed of mutant whose entire torso is a row of teeth, and a whole range of other terrors. But nothing has come close to the sheer horror of a single finger.
In case you think this is turning into a torrent of filth, I'll clarify. The finger, or fingers in question, are attached to the game's friendly NPCs, Kelvin and Virginia. And, most of the time, these two are happy to assist.
Kelvin will gather resources, build structures and, on special occasions, cut down the treehouse you were trying to build. Virginia, on the other hand, can't be directly commanded, but give her a gun and she'll dispatch enemies with an apparently infinite supply of ammo.
But, despite their inherent usefulness, they point – and that just chills me to the bone.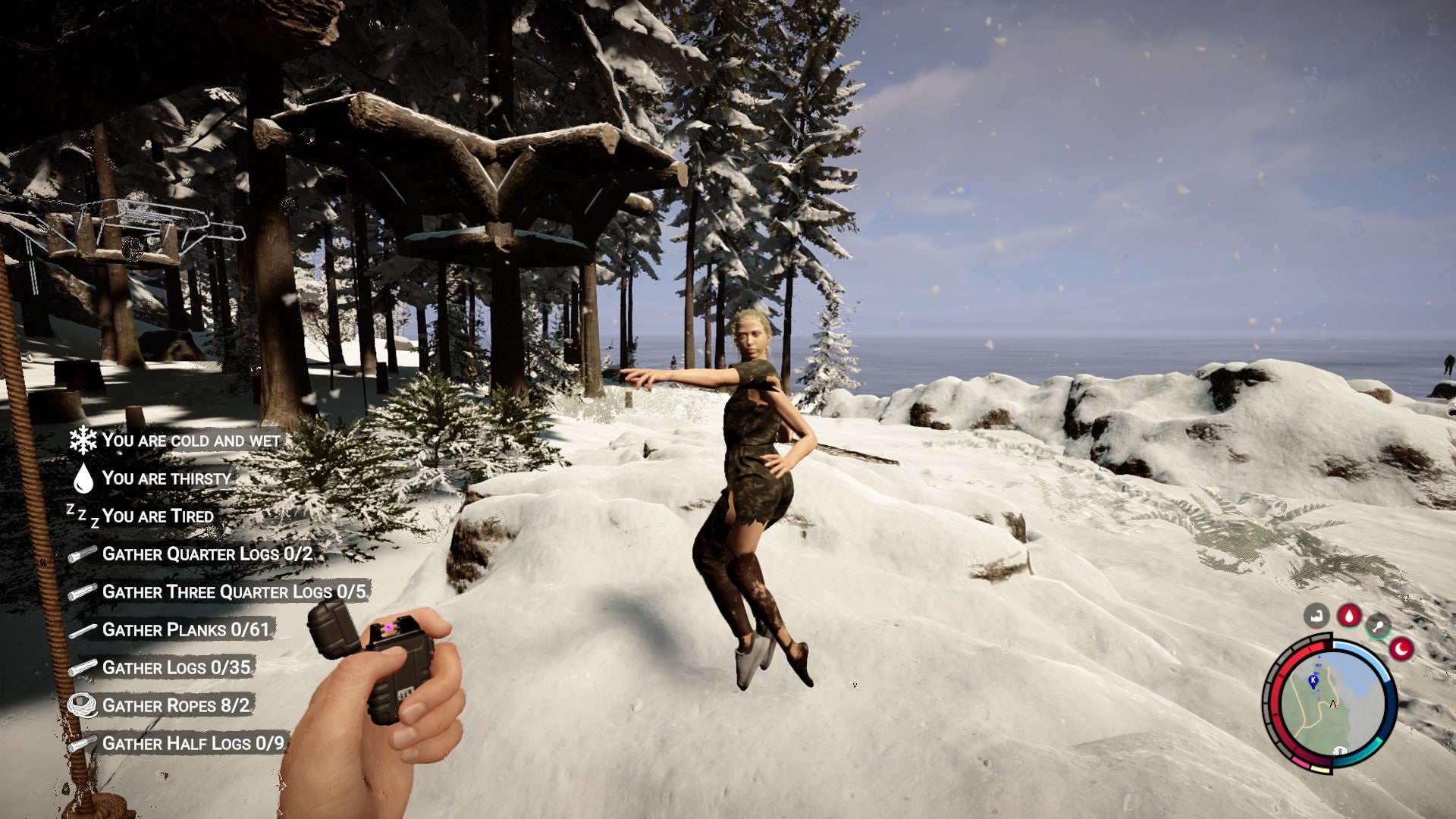 I can vividly recall the first time they demonstrated this deeply unsettling behaviour. It was the middle of the night and, previously besieged by enemies, I'd abandoned my highly desirable beachfront property and retreated into the woods. I was part way through building a treehouse, hoping that being off the ground would protect me from further attacks.
I was taking a break and was standing in the near-darkness, illuminated only by the campfire and the underwhelming violet glow from my portable mini-torch. Kelvin was wandering around (I didn't trust him not to cut down the tree house) as was Virginia, who had been drifting in and out when she felt like it.
Suddenly, Virginia raised her hand and started pointing at something off in the darkness. Seconds later, Kelvin followed suit. They didn't say so much as a word, they just stood there, hands raised, fingers directed at something in the gloom.
The sound of cannibals crashing through the bushes was enough to break the tension but, during that prior moment, my stomach dropped and my mind was awash with nightmares. And Sons of the Forest has never been quite the same since.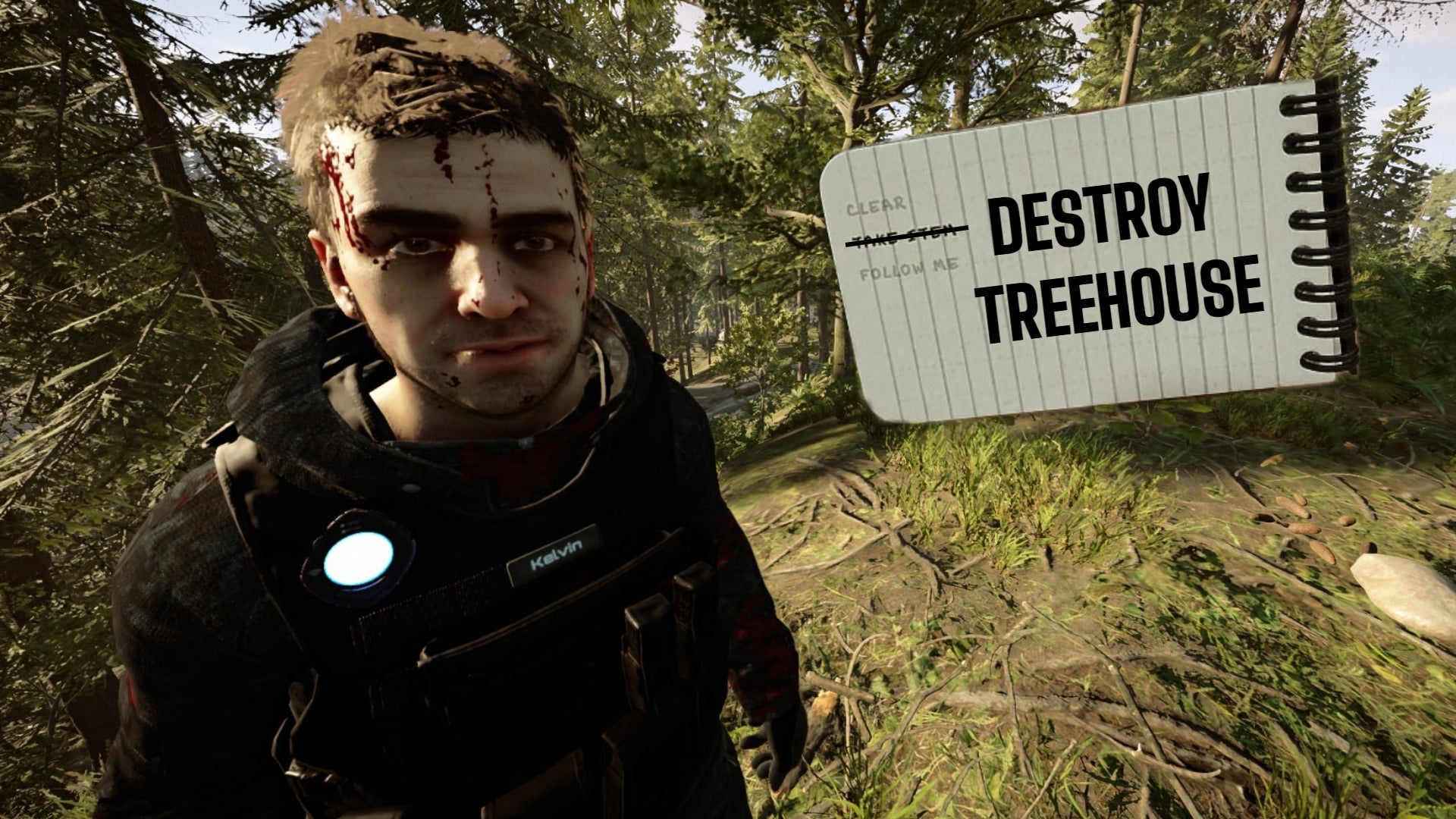 I don't know why, up until then, I'd never seen either of them point. Maybe one of the game's hotfixes had flipped a switch, or perhaps I'd just been lucky. From a gameplay perspective it makes sense, since the alternative is having your companions stand around while enemies close in. And if that was the case, you can bet the game's Steam forums would be packed with people grumbling at their ineptitude.
The way the feature is executed is just so strange, however, that it's impossible (for me at least) not to be affected by it. Since that moment, both have continued to point at things they perceive as threats. Sometimes they point individually, while at other times it's a team effort.
And more often than not, they're right. There is something in the bushes that's intent on eating my face, divorcing my head from shoulders or both. But even when I can see exactly what they're pointing at, even when it's broad daylight I still feel that chill.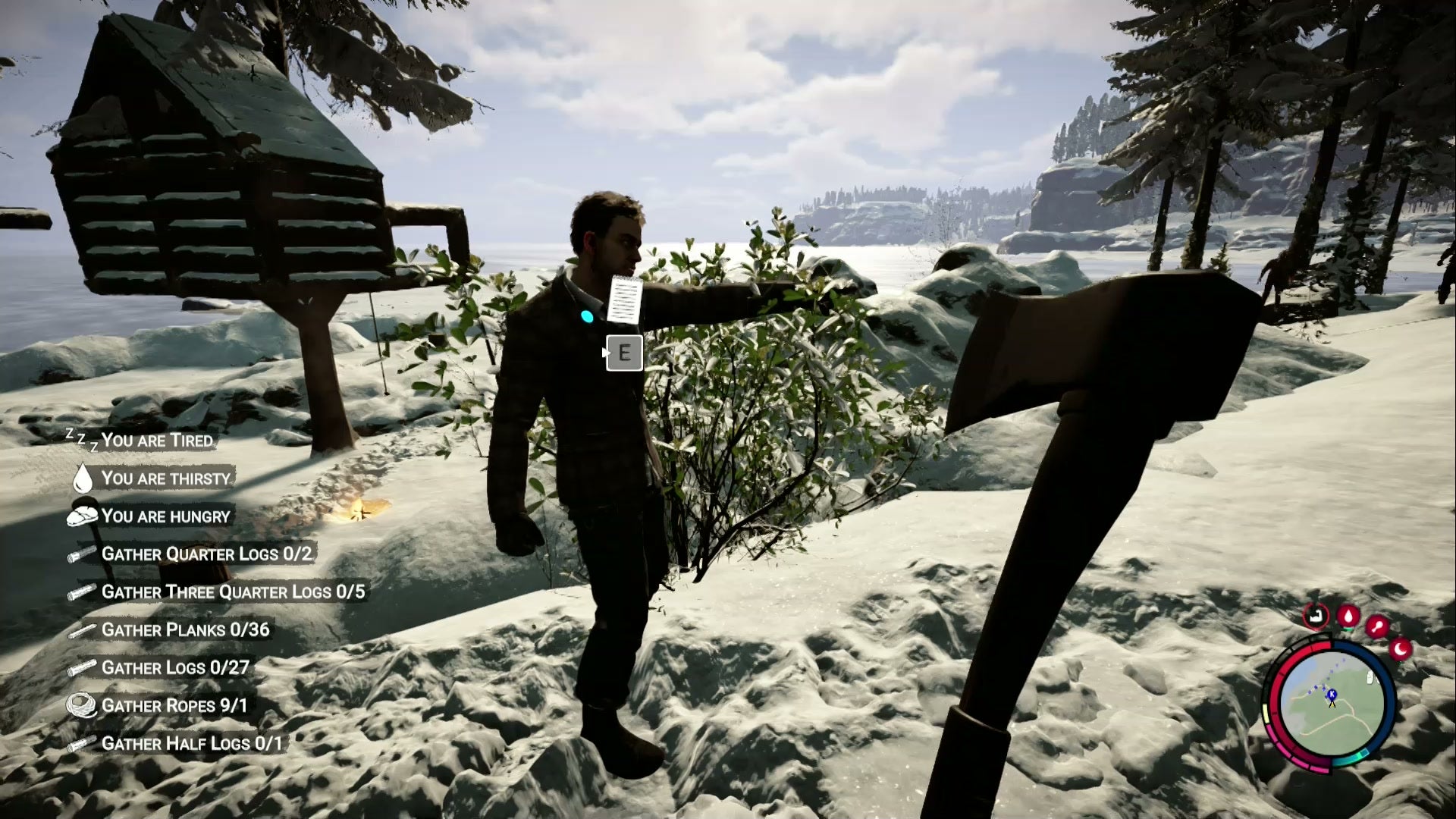 I'm tempted to blame Donald Sutherland and his performance in 1978's Invasion of the Body Snatchers. That infamous point-and-howl may have entered into memedom but it still retains its power. And, as a fan of that movie, Virginia and Kelvin's midnight moment may have brought that memory to the surface of my mind.
There's more to it than that, though. Unlike Sutherland's scene, there was no malice and little apparent urgency about their actions. They weren't running around in circles, jumping up and down, they just.. pointed. And if it had been directed at me, Body Snatchers style, it'd have had much less impact.
The lack of an accompanying shout is one significant factor. Kelvin and Virginia each have their own reasons for being mute, having been mentally and physically traumatised. So, in-universe, their inability to vocalise their concern makes perfect sense.
But, perhaps due to the Sons of the Forest's Steam Early Access status, that concern doesn't manifest on their faces. The mismatch between their blank expressions and the information they supposedly want to convey only adds to the sense of wrongness.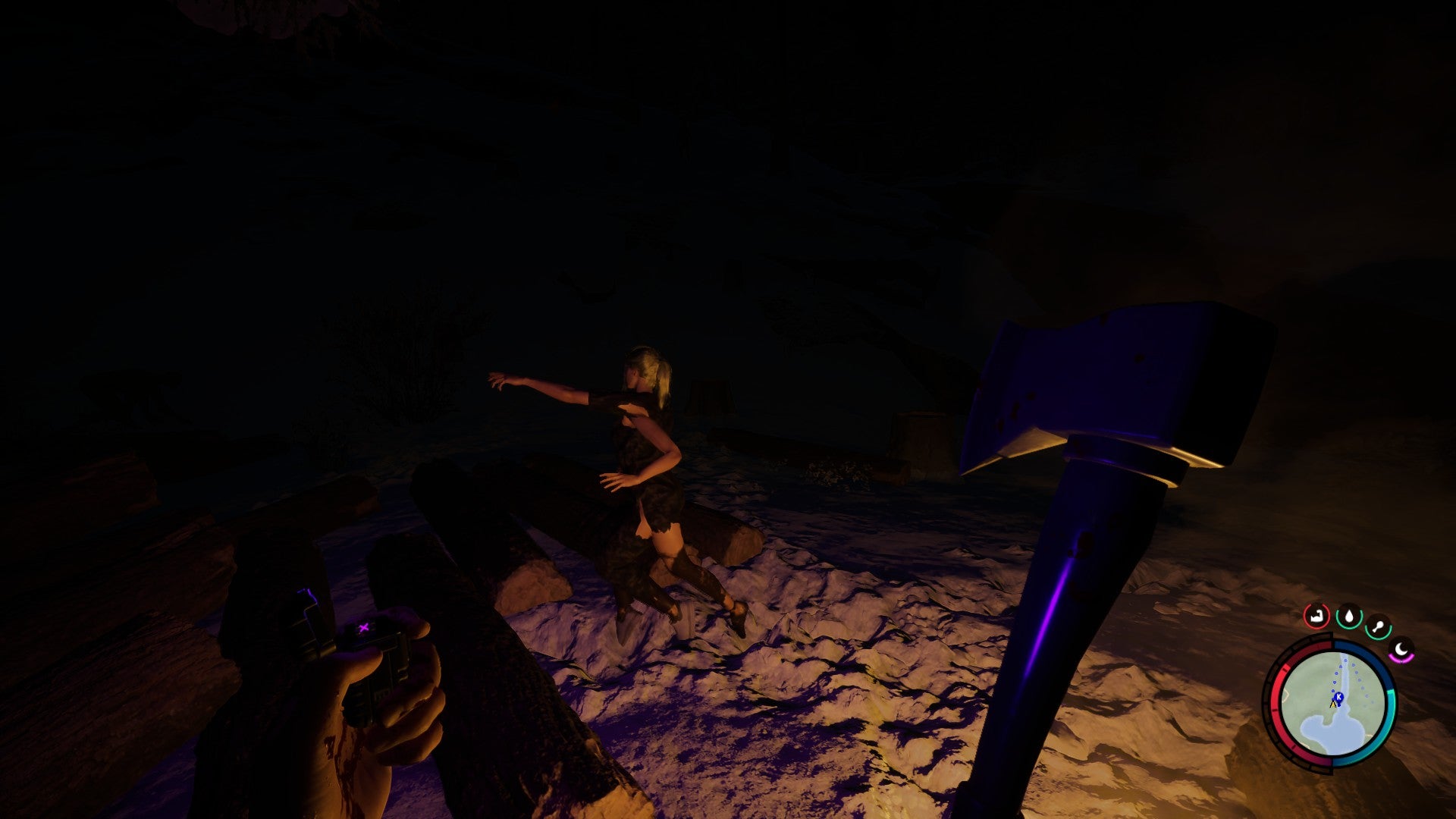 There's also something ancient and primal about pointing. I can imagine it being commonplace well before mankind had anything approximating speech. Certainly, some members of the ape family make regular use of the gesture.
Admittedly, as a huge horror aficionado I'm inclined to find things disconcerting. And one of the fundamentals of fear is whatever your brain conjures up is more terrifying than anything that can be put down on screen or paper.
In the original The Haunting of Hill House, you never see what's banging at the bedroom door, but your brain is telling you it's (literally) the worst thing you can imagine. When Sons of the Forest's NPC started mutely pointing, my mind was telling me there was something unspeakable making its unhurried way towards me.
Is this irrational? Yes, but fear doesn't have to be rational and, more often than not, it isn't. Subnautica has a similar effect on me. I know logically, that I've seen every creature it has to offer. But in my gut, there's something lurking down in the depths, something I've yet to encounter.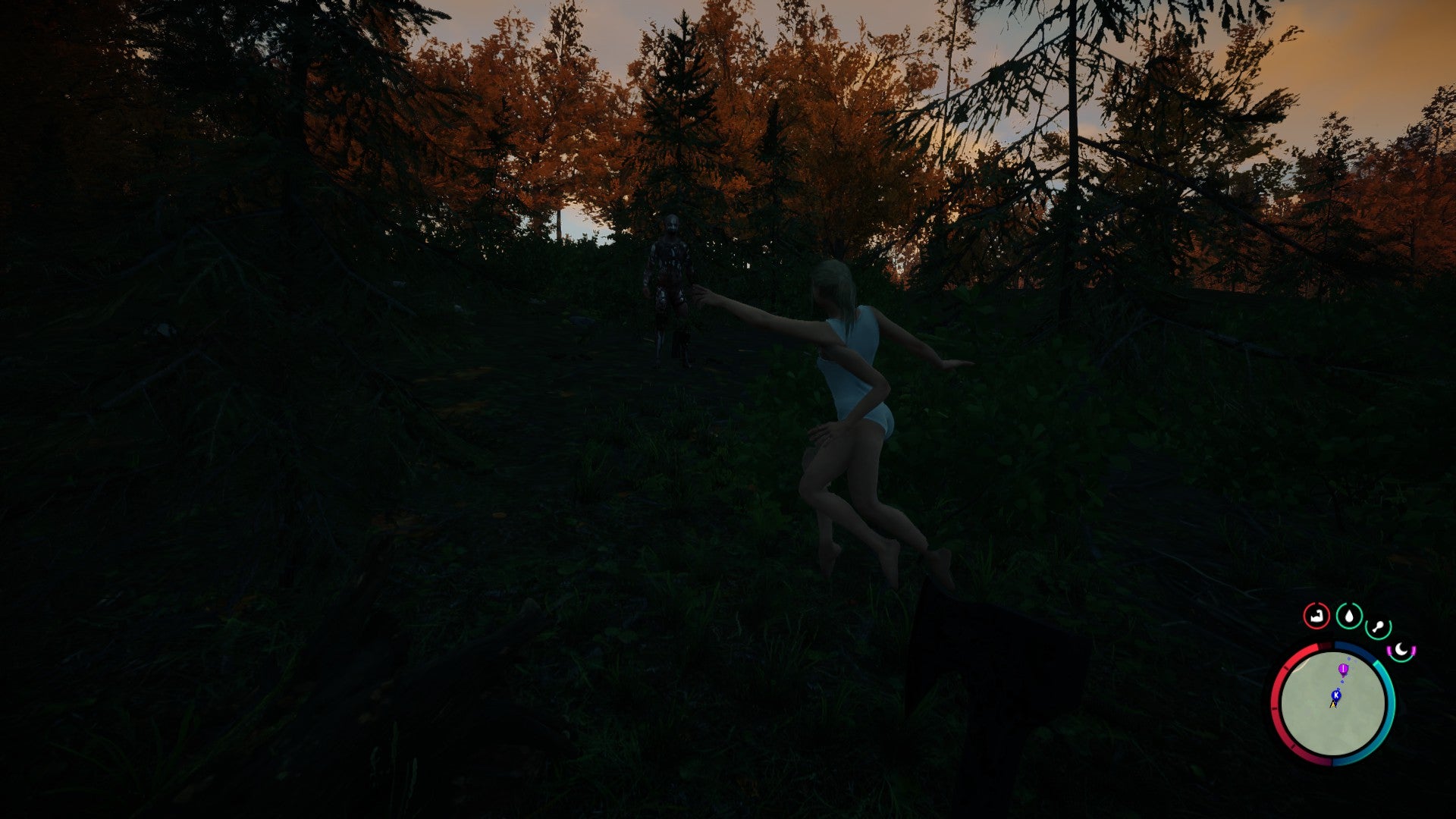 And if that wasn't enough, Sons of the Forest's NPCs make things worse by their inaction. This was before I'd given Virginia a gun so I didn't get to watch her blasting away at whatever was in the darkness. They do run from foes, but I've yet to see them point and run at the same time.
So, instead they just stand and point, not a word leaving their lips. Even if your mind's not going ten to the dozen, it creates an unnerving tableau.
But, bizarre as this is, it's not entirely out of character for Sons of the Forest. Despite its 80s-style menu theme it doesn't channel that era as heavily as it might, but there's other elements of weird horror woven into its DNA. Developer Endnight (formerly SKS games) cites Cannibal Holocaust and The Descent as influences, so maybe they knew exactly what they were doing by implementing this disquieting behaviour.
And, compared to some NPCs companions, (I'm looking at you, The Elder Scrolls V: Skyrim), Kelvin and Virginia are a real step. Maybe I should see this habit as a small price to pay for them not being terrible. But as long as Sons of the Forest keeps giving me the finger, I'm going to keep worrying about what might be just out of sight.