Xbox
The Last of Us Part I PC features and specs detailed
The Last of Us Part 1 releases on PC later this month on March 28, and to prepare you for it, Sony has released the PC specs.
Coming to Steam and the Epic Games Store, the game contains the same main content as its PS5 counterpart and is optimized for PC with PC-centric quality-of-life enhancements.
It will feature AMD FSR 2.2 support, Nvidia DLSS Super Resolution support, VSync and frame rate cap options, and other features such as adjustable Texture Quality, Shadows, Reflections, Ambient Occlusion, and more.
It supports 4K resolution and Ultra-Wide Monitors for both 21:9 Ultrawide and 32:9 Super Ultrawide aspect ratios, 3D audio support, and DualSense controller support through a wired connection to experience haptic feedback and dynamic triggers. You can remap the DualSense, or use adaptive mode to combine keyboard and controller inputs and even more.
You can also expect several bug fixes and improvements throughout the game, the Left Behind DLC chapter, additional modes like Speedrun Mode, Permadeath Mode, Photo Mode, and a suite of accessibility features.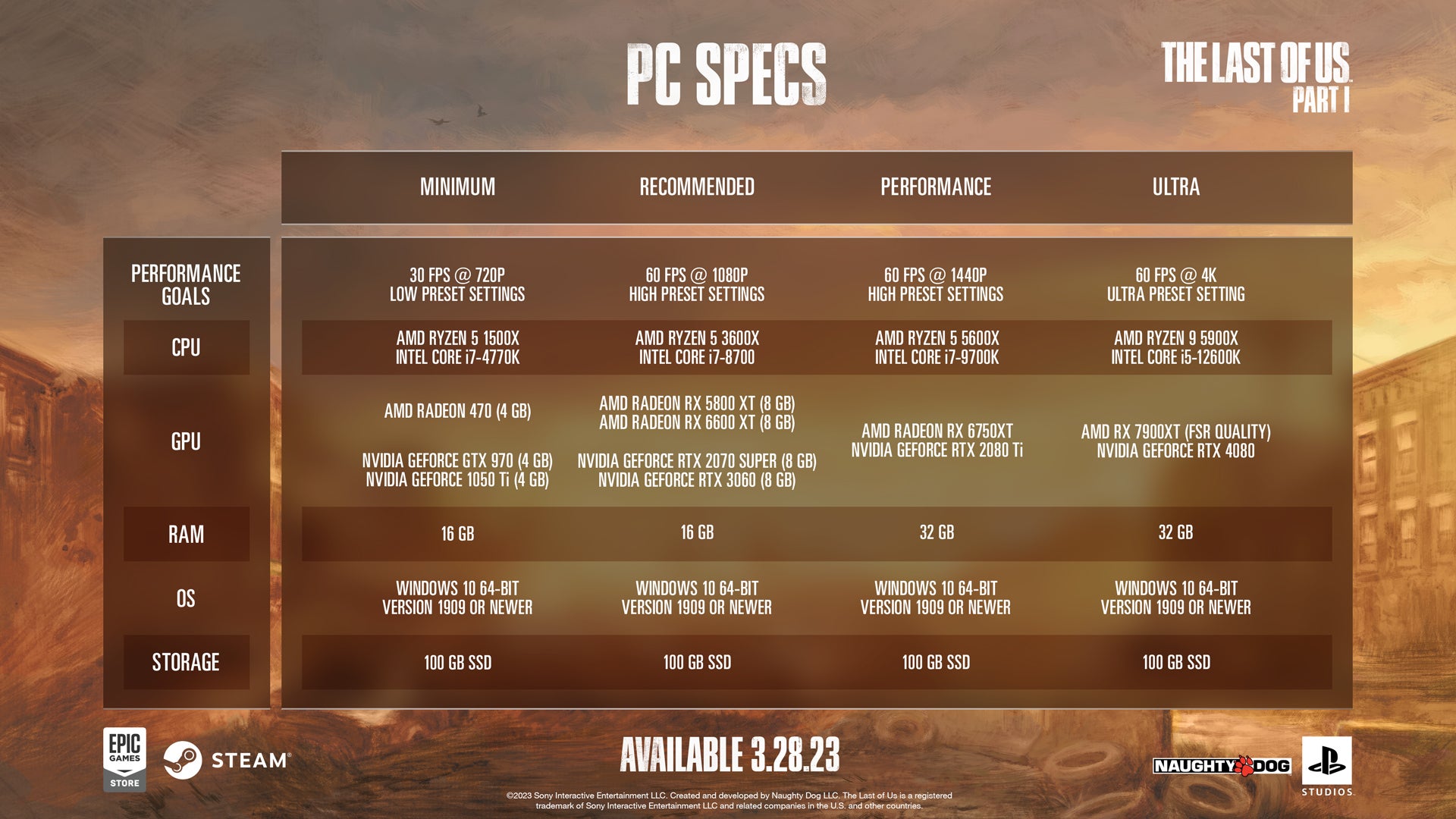 The Firefly Edition of The Last of Us Part I for PC via Steam is still available in limited quantities in the US, UK, France, Germany, Belgium, Netherlands, and Luxembourg through here. Pre-purchase it to receive a SteelBook, physical copies of The Last of Us: American Dreams comics, and more.
Additionally, the standard and digital deluxe editions of The Last of Us Part I are still available for pre-purchase. All pre-purchases will receive bonus supplements and weapon parts. The Digital Deluxe Edition includes early in-game unlocks, cosmetics, and more.